KYODAI Remittance's Supports Service for 'Supervising Organization' and 'Registered Support Organizations'
Are you wondering which remittance company you should introduce to your trainees?
Are you concerned if your trainees make remittances through illegal channels?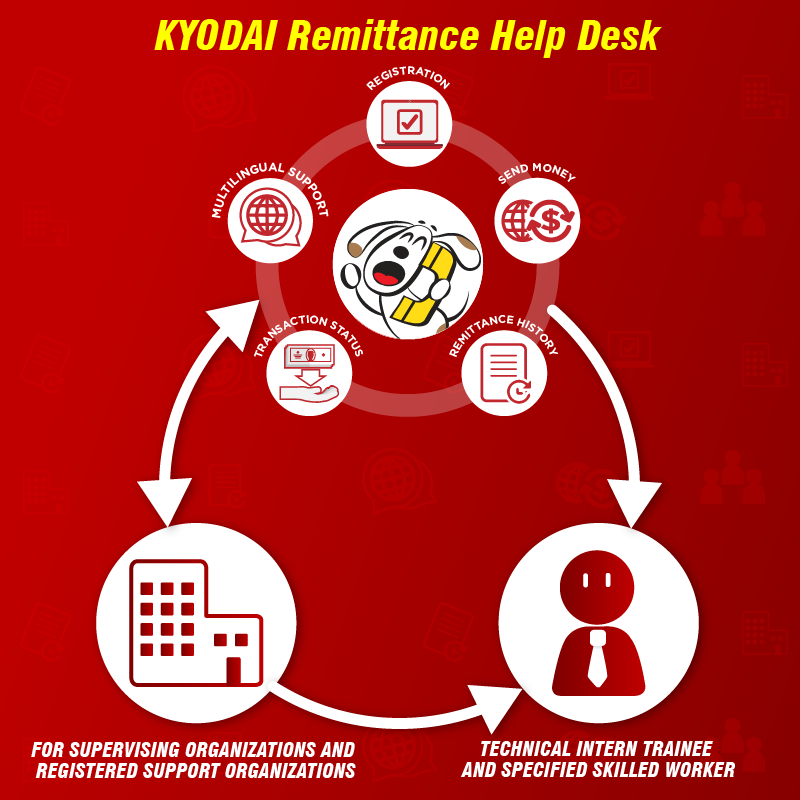 KYODAI Remittance will help you solve all these issues.
WHAT WE CAN DO FOR YOU

FOR TECHNICAL INTERN TRAINEE AND SPECIFIED SKILLED WORKER
KYODAI Remittance is a well-known remittance company registered with Japanese Government. It has been covered by NHK, Nippon TV, TV Asahi, TBS, Fuji TV, Nagoya TV, Kansai TV, Yomiuri TV and other regional broadcasters and many other media.
Easy online registration by KyodaiApp using eKYC. Using KyodaiApp you can also do remittance request, remittance status check, data update and remittances history request ALL for free. Got to KyodaiApp
KyodaiApp is available in 8 languages: Japanese, English, Bahasa Indonesia, Vietnamese, Chinese, Myanmar, Portuguese, and Spanish.
KYODAI Remittance Card is issued for free to your trainees, which is independent of your trainee's bank accounts. It can be conveniently used to make deposits at ATMs of Japan Post Bank and Lawson Bank. Upon receipt of the deposits, Kyodai starts to make remittances requests 365 days a year to more than 200 countries and territories.
Beneficiaries can receive the payment by cash pick up or bank account deposit, depending on their convenience.
KYODAI remittance service is safe and fast, with a competitive FX rate and a fee.
More than 16 native-language support.
More than 35 branches and agents to support in all Japan.

FOR SUPERVISING ORGANIZATIONS AND REGISTERED SUPPORT ORGANIZATIONS - KANRI DANTAI AND TOROKU SHIEN KIKAN
KYODAI Remittances p

rovides native language support, face to face or online, even visits you to help your trainees register with KYODAI through KyodaiApp and to issue Kyodai Remittance Card

.
KYODAI will issue remittance history for year-end tax adjustment (nenmatsu chosei) . From KyodaiApp, your trainees can also order their remittance history.
Kyodai can remunerate you for introducing your trainees to KYODAI under certain arrangements.
CONTACT US FOR MORE DETAILS
Name of Organization
Address
Homepage
Name of person in charge
Telephone
e-mail
Trainee's nationalities
Details of inquiry
What time do you want to receive the call?
What language do you prefer when we contact you?
Unidos Co., Ltd
〒169-0073 Tokyo to, Shinjuku ku, Hyakunin cho 2-4-8, Stairs Bldg. 2F
Type II Funds Transfer Services Provider (Head of Kanto Regional Finance Bureau 00004)
Please go to Contact us