NENMATSU 2022 China Campaign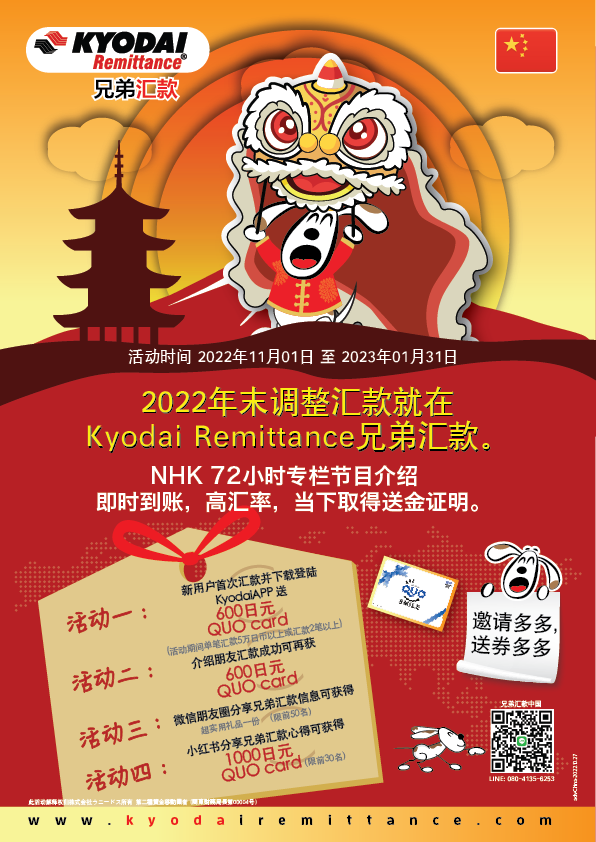 🛑 Campaign Details:
Period: 2022/11/01 – 2023/01-31
Participate in the Nenmatsu campaign!!
🎉 Campaign 1: New customers who send money to China and Hong Kong , can get 600 jpy Quo card. (Must download and Login on KyodaiApp or send a Minimum of 50,000 JPY or send 2 TXN. ( Quo card can be used in any convenience store)
🎉Campaign 2: Anyone, who has already registered with Kyodai and introduces a new customer. This customer must send money.
🎉Campaign 3: Customers that send money and share Kyodai information in Wechat Moments have a chance to get special gift (50 Limited stock!).
🎉Campaign 4: Customers that share Kyodai information in Red BOOK have chance to get 1000 QUO CARD (30 Limited stock!).
Besides, all the customers will automatically participate in "KYODAI STAR AWARDS" campaign. The best award are LAPTOPS.
🎉Fast!
🎉Low fees from 700 jpy!! Click here and search the fee.
🎉Get the official remittance history record immediately for Free!!
🎉Introduced by NHK 72 hours and guarantee you the safeness.
Please do not hesitate to enter our End-year campaign.
Kyodai remittance is always waiting for you!