10TH. CHILDREN'S DRAWING CONTEST KYODAI 2021
[ 2021-07-01 ∼ 2021-09-15 ]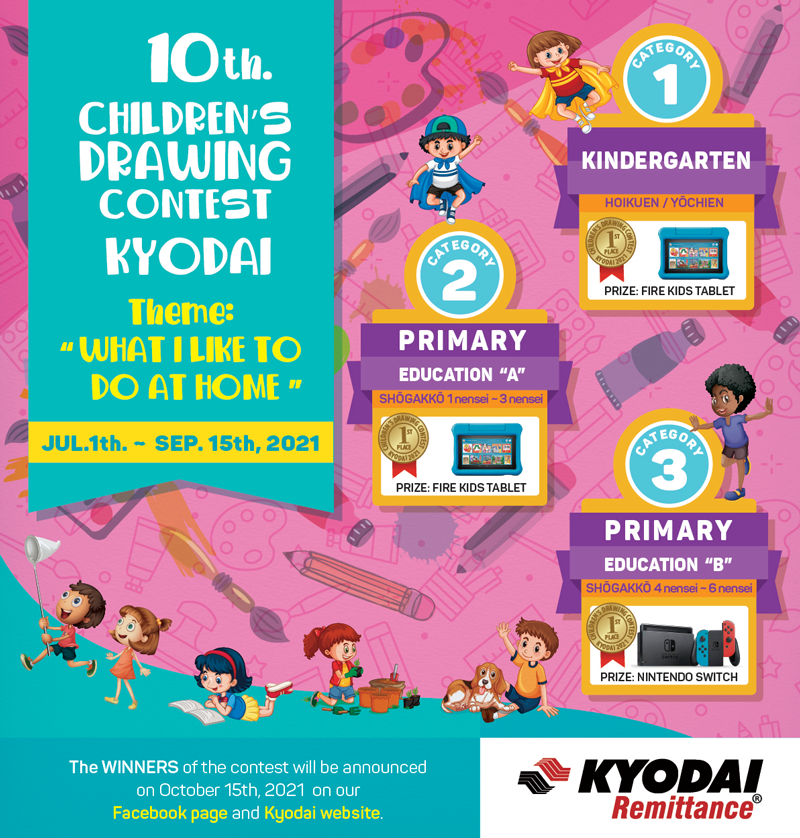 10TH. CHILDREN'S DRAWING CONTEST KYODAI
Theme: " WHAT I LIKE TO DO AT HOME "
The WINNERS of the contest will be announced on October 15th, 2021 on our Facebook page and Kyodai website.
Category Winners: 1 Winner and 2 honorable mentions for each category.
BASES OF THE CONTEST:
-Children attending KINDERGARTEN and PRIMARY school will participate.
-Participants must reside in Japan.
-You can send multiple drawings* (until 15/09/2021).
*the works won't be returned.
-Free Technique (colored pencils, crayons, watercolors, etc.).
-The paper work or cardboard size is A4 (29.7cm x 21cm).
-Respect the theme of the contest.
-Unfortunately, direct family members of any Kyodai Remittance worker and/or promoter cannot participate.
-Write the full name, age, grade, address, phone number and nationality in the back side of the drawing.
SEND THE WORKS TO:
KYODAI REMITTANCE 〒169-0073 Tokyo-To, Shinjuku-Ku, Hyakunincho 2-4-8, Stairs Bldg. 2F.
You can also take the Works to any of the Kyodai agencies, in an envelope indicating that it is for the drawing contest.
COPYRIGHT:
• All the Works must be originals.
• The participation in the contest implies that interested party, the parents/guardian known the bases.
• The Works received and published become the property of Kyodai Remittance, which can be used for advertising purposes but not commercial.
• Entries must not contain images of the contestant or personal information whose disclosure could affect their privacy.
• Please do not hesitate to write to us with any questions at: marketing@kyodai.co.jp