KYODAI MOBILE PHOTOGRAPHY CONTEST KYODAI 2021
[ 2021-07-01 ∼ 2021-10-15 ]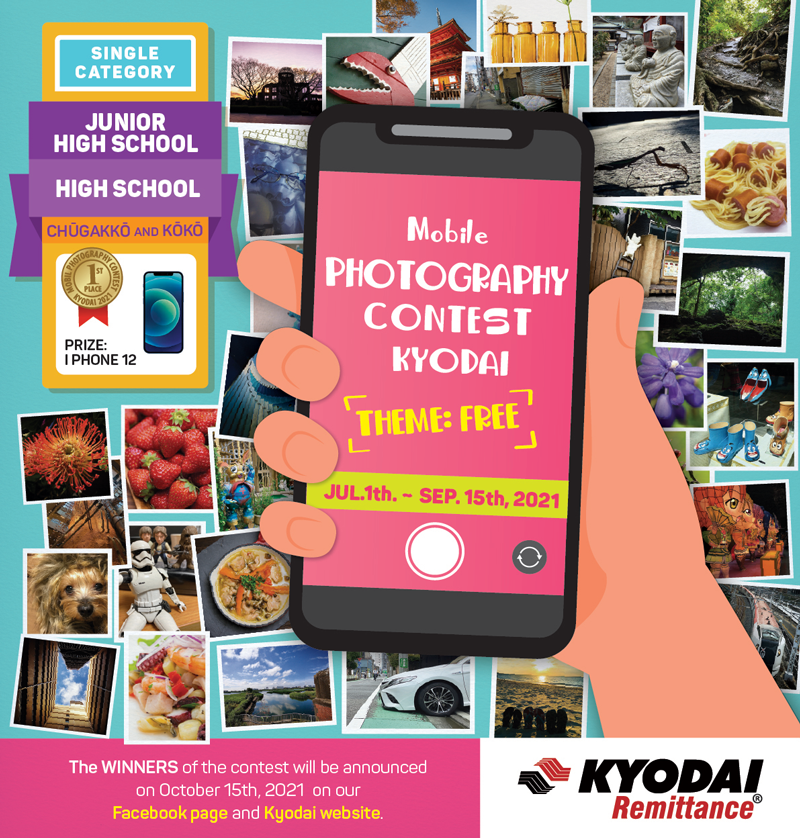 KYODAI MOBILE PHOTOGRAPHY CONTEST KYODAI
Theme: free
The WINNER of the contest will be announced on October 15th, 2021 on our Facebook page and Kyodai website.
1 Winner and 2 honorable mentions.
BASES OF THE CONTEST:
-Teenagers attending Junior High School and High School students
(CHŪGAKKŌ and KŌKŌ).
-Participants must reside in Japan.
-You can ONLY send one photography* (until 15/09/2021)
*best possible quality.
-Theme is free, but no person can appear on the image.
-The photo has to be taken with a cellphone. Decorative filters, emojis, stickers, etc. cannot be used.
-The photographs sent must be exclusive for the contest, unpublished; that is, they have not been published on any platform before or used for any purpose.
-Unfortunately, direct family members of any Kyodai Remittance worker and/or promoter cannot participate.
HOW TO SEND THE PHOTOGRAPHY?
The photograph must be sent to the following email address: marketing@kyodai.co.jp indicating:
- Subject: "Mobile Photography Contest"
- Title of the photograph
- Full name
- Age
- Grade
- Nacionality
- Address
- Phone
Copyright:
• All the Works must be originals.
• The participation in the contest implies that interested party, the parents/guardian known the bases.
• The Works received and published become the property of Kyodai Remittance, which can be used for advertising purposes but not commercial.
• Entries must not contain images of the contestant or personal information whose disclosure could affect their privacy.
• Please do not hesitate to write to us with any questions at: marketing@kyodai.co.jp